Chicken is the most popular type of protein among the meat-consuming population across the globe. The fact that the cost of raising a chicken is relatively low than other proteins such as beef or pork, makes it a widely consumed meat. This is why the fast-food chains such as McDonald's, KFC, etc. have also included special roast chicken recipes in their menus.
Here are 3 quick and easy-to-make roast chicken recipes.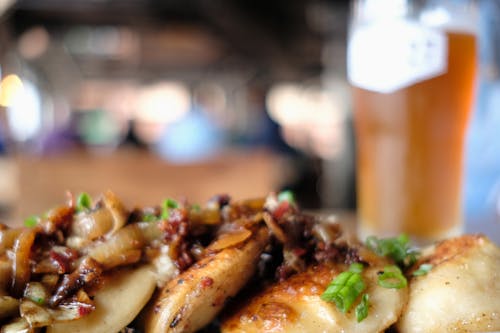 Roast Herb Chicken
The Roast Herb Chicken is a mouth-watering and delicious chicken recipe enriched with the rich flavor and aroma of herbs.
Ingredients For Roast Herb Chicken:
Whole Chicken – 2 kg
Garlic cloves – 2
Thyme – 5 sprigs
Rosemary – 5 sprigs
Finely chopped onions – 2
Butter – 50 grams
Sage – 5 sprigs
Parsley – 1 bunch
Baby potato – 10
Virgin olive oil – 2 tablespoon
Salt – as per taste
Black Pepper powder – as per taste
Lemon – 2
Preparation:
In a deep bowl, add finely chopped herbs such as garlic cloves, chopped onions, rosemary, thyme, sage, parsley, a pinch of salt and pepper. Then, add 3 tablespoons of olive oil to it.
Wash the chicken properly and remove its skin. Make a cavity in the protein and stuff these spices in the cavity. Also, add sliced lemons in the cavity.
Apply a layer of butter on the chicken. Adjust the oven to 225 degrees Celsius and roast the chicken for about an hour.
In a separate tray, take baby potatoes. Sprinkle thyme, rosemary, parsley, sage, a pinch of salt and pepper and two tablespoons of butter. Cook the potatoes for about 20 minutes.
Garnish the chicken with Parsley and serve hot with potato sides.
Veggie Roast Chicken With Gravy
The veggie roast chicken is a delicious chicken recipe complemented by the crisp of vegetables and flavourful meat.
Ingredients For Veggie Roast Chicken With Gravy:
Onion cut into wedges – 2
Celery – 3 stalks
Diced carrots – 3
Olive oil – 1 tablespoon
Kosher salt – 1 teaspoon
Black pepper powder – ½ teaspoon
Thyme – 10 sprigs
Rosemary – 5 sprigs
Whole chicken – 2 kg
Crushed garlic cloves – 4
Butter – 3 tablespoons
All-purpose flour – 2 tablespoons
Preparation:
Preheat the oven to 450 degrees Celsius.
In a roasting pan, add onions, diced carrots, celery, salt, olive oil, and pepper. On it add sprigs of thyme and rosemary.
Wash the chicken and dry it. Now, remove the chicken's head and make a hollow in it. Season this cavity with butter, salt, pepper, chopped garlic, thyme, and rosemary.
Tie the legs of the chicken together. Also, tie the breast of the chicken. Now brush the chicken with melted butter, salt, and butter. Place the chicken over the veggies mixture and roast for 30 minutes.
Now, flip the chicken and brush it with melted butter, salt, pepper, and roast for another 30 minutes.
Take the chicken out of the roasting pan. Heat two tablespoons of butter in a pan and add all-purpose flour. Now add the seasoned veggies to the pan. Sprinkle salt and pepper. Cook for two minutes.
Serve the roast chicken hot with this gravy.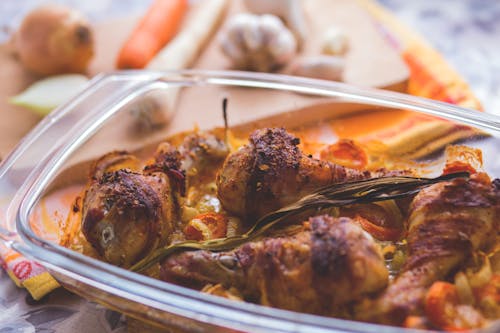 Smoky and Spicy Roast Chicken
It is one of the traditional methods of chicken roasting used to prepare spicy and smoky chicken with a sublime texture. It uses charcoal to roast chicken in an underground pit.
Ingredients For Smoky And Spicy Roast Chicken:
Whole Chicken – 1 kg
Roasted and powdered mixture of spices (cloves, green cardamom, black peppercorns, dried red chill, bay leaf, cinnamon sticks, Mace, Nutmeg, star anise, rock flower, sesame seeds) – 50 grams
Red chili powder – two tablespoons
Salt – two tablespoons
Ghee – 7 tablespoons
Pepper powder – 1 tablespoon
Coal pieces for smoking the chicken
Aluminum foil for wrapping the protein
String to tie the chicken
Lemon juice – 3 tablespoons
Preparation:
In a bowl, add 5 tablespoons of ghee. In it add the roasted mixture of spices; add salt, pepper and lemon juice. Mix it well.
Now wash the chicken and dry it. Cut open the chicken and apply the mixture of spices on the inside-out. Use a fork to make holes in the chicken.
Now rub the mixture of spices inside-out.
Brush the chicken's outer surface generously with ghee.
Tie both legs of the chicken together. Make 3-4 layers of aluminum foil wrap on the chicken.
Now in an earthen pit, pour 1 kg of hot coal covered by a thin layer of sand. Now place the wrapped chicken in the pit and cover the pit.
Cook for 1 hour. Then flip the chicken and cook for another hour. After two hours, take the protein out of the pit and allow it to cool.
Then slowly cut open the foil surface and serve the chicken hot with hot bread. Garnish the chicken with coriander leaves.
Chicken is an easily available protein that serves as an important food item of the meat-eating population. There are as many different ways of preparing chicken as are the people eating it. The above article provides three easy and quick recipes to relish roast chicken at home.